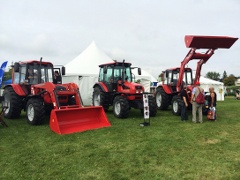 Canada's Outdoor Farm Show offers "one stop shopping" for farmers and highlights the most innovative and technologically advanced agricultural products and services available. With more than 750 exhibitors, the show attracts more than 42,000 people every year.
The MTZ booth featured 3 tractor models: MTZ 952 (105 hp), MTZ 1220 (122 hp) and MTZ 1523 (150 hp).
The successful 3-day exhibit was attended by hundreds of visitors, farmers and dealers.