For the benefits of dealers and users, we produced a 500 page illustrated parts "Encyclopedia".
It contains the following information for MTZ – Belarus made tractor parts:
Photo, description, diagram showing where the parts belongs to, weight, cost and retail price.
You can download it from our web site Spare Parts section at http://www.mtzequipment.com/products/spare-parts (please contact us to obtain the login/password information)
See below a sample page from this illustrated catalog: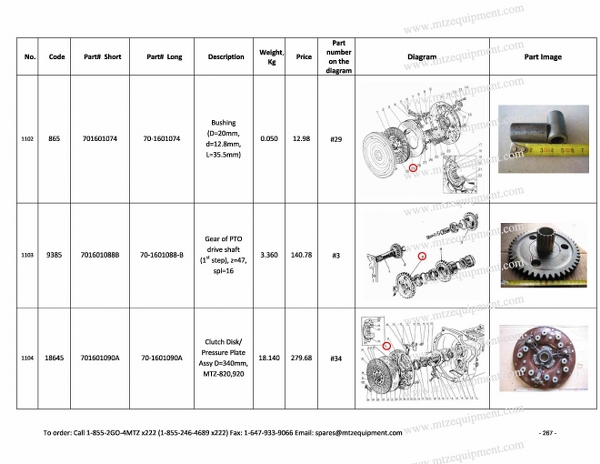 Notes / comments:
·         We stock only factory original, Belarus made parts, which we receive directly from the MTZ plant in Minsk, Belarus. We are continuously bombarded with proposals from suppliers in Pakistan, China, India, Ukraine, Poland etc. All of them offer us comparable/compatible/similar parts, sometimes at a lower price. After repeat tests by us and by the plant we all came to the simple conclusion: "There are no free lunches". Grey market / black market parts are not built to the same quality standards as the original. The minor cost savings from non-original parts are not worth the quality issues down the road.
·         Pricing and description are subject to change without notice. We try our best to maintain the current pricing, but on occasion the plant is raising our cost throughout the year.
·         This parts list is not complete. If you do not find a part, call us. We might have it, or can get it promptly.
·         Parts are listed in alpha-numerical order, to allow for faster search.
·         For your convenience, we included both the long part name (example A65.01.100-10) and the short one (A650110010)
·         The file is a searchable PDF. Instead of scrolling, you can hit CTRL + F, then enter part number (complete or partial)  to find the part immediately. This is also useful if you are not sure about exact part number. For example you can do CTRL + F and punch in "tire" to look for all tires.
·         For your convenience , many parts are listing the part's weight. This should be helpful with shipping charges estimates.
·         Part numbers occasionally change or are being replaced with new part numbers. For your convenience we maintain registry of many old part numbers.  New/Replacement part numbers are listed in the description. Example: 03082501110150 is outdated. It's description says "Use 21.054"
·         Some parts are not available separately, but only as part of a larger kit/assembly. It will be noted in part's description. Example: Part #  "0110163014inKit" in description says "Part of Repair Service Kit RSK-3400015". Meaning you have to order RSK-3400015 which will include the needed part.
Thank you again for your business !